Performance infill
Pitch Construction
Next to deciding which type of artificial grass is most suitable for your needs, choices for the performance infill layer should also be made. Performance infill ensures that the players' shoes have a good grip and can also reduce the strain on muscles and joints by acting as a cushion along with maximising sliding characteristics. The infill layer has various options and each infill has its specific characteristics.
The infill base is often formed by a sand stabilization layer in combination with a granulate that adds additional sport-technical properties to the system. When choosing your infill check for available quality reports for the infill; a poor-quality infill can (in the long-term) cause major problems in the field. The infills in the GreenFields systems have been extensively tested for performance and durability internally, but also externally certified by independent test institutes.
Natural infill
Natural infills are a good alternative for short-pile synthetic grass, densely tufted or with fibrillated or texturized yarns that hold the infill together. Our natural infills can be bio-sourced or biodegradable.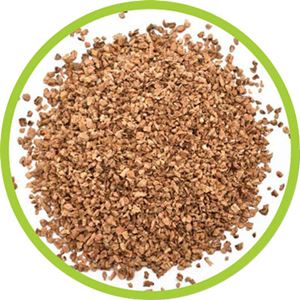 Nature

Cork (described as Nature in our systems) is the most used natural infill material. Cork delivers good sport-technical performance, for an attractive price.



BioBlend

BioBlend is a mixture of cork and granulated corn cobs which increases the bulk density to reduce infill migration.



GreenFill

GreenFill is a bio-degradable alternative which will degrade in only 6 months' time if it ends up in the soil around a pitch.


BioBlend performance infill
BioBlend is a 100% natural plant mix, composed of tree species bark and fibrous grain parts, biodegradable and free of synthetic materials.

The surfaces filled with BioBlend allow:
Compliance with the sport-technical requirements 
Higher mass compared to other natural infills, reducing migration and helping the maintenance process
Excellent water drainage, reduced irrigation and water consumption
Low temperatures of the playing surface in the summer season
No intentional added micro plastics
Bringing disposal costs down to zero

GreenFill performance infill
GreenFill performance infill is a bio degradable polyester, receptive to bacterial degradation in the soil due to innovative molecule structure.

The surfaces filled with GreenFill allow:

Compliance with the sport-technical requirements (please take notice of the certified systems)
Excellent water drainage
Biodegradation of infill that ends up in the soil
No intentionally added microplastics
Bringing disposal costs down to zero
Synthetic infill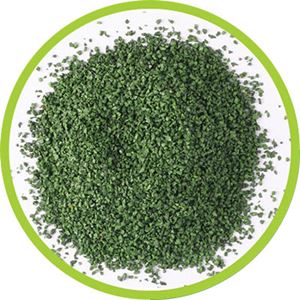 EPDM

A virgin material closely related to SBR is EPDM (both thermosets), which delivers good sports performance and is very durable in the long term.



TPE-B

TPE (a thermoplastic) is also a good alternative that is widely used, available as a solid granule (B) or hollow in a cylindrical shape (H).



TPE-H

The cylindrical shape (H) has a lower bulk density so requires less material in the installation.

Recycled infill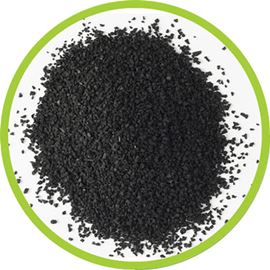 SBR

The most common recycled infill material generally used is SBR (Styrol Butadiene Rubber). SBR rubber infill is made from grinded old rubber products such as car tires.



SBR-C

BR is also available in a coated version in various colours: SBR-C.



After a thorough quality check also synthetic infill from old pitches can be used for new applications.