The Company
GreenFields Asia
GreenFields is a global supplier and innovator of sports turf technology. GreenFields has a breadth of experience in the development, production, installation and maintenance of synthetic sports turf systems, and the ability to provide high quality, innovative products to provide a perfect pitch for ever player. All this has enabled GreenFields to become one of the front runners in this industry.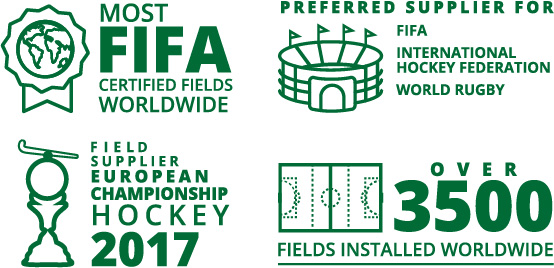 Our Mission
To enable everyone to play sport at the best possible pitch every day, everywhere.


Our Vision
We continuously improve our product portfolio, based on the needs of our customers. Through our system approach, we strive to deliver artificial turf with the best player experience and durability at all sports levels.

Greenfields commits to and focuses on:
Customer satisfaction from system design up to support during the life cycle of a pitch
Best value over life products
Fit for purpose system certification in close cooperation with our R&D department and accredited laboratories
A sustainable business throughout the supply chain, as part of the TenCate Grass Group
Front runner of recycling end-of-life artificial turf
The highest industry quality standards (FIFA, FIH, WR, etc.) by in house testing and external certification
Partnership with the Cruyff Foundation 
TenCate Grass, the parent company of GreenFields, has a longstanding partnership with the Johan Cruyff Foundation; a cooperation that began in 2003. The Cruyff Foundation, founded by the legendary football player Johan Cruyff, is regarded as a major authority on sports for children and related social projects.
Preferred Producer Status
ESTC & GreenFields


The EMEA Synthethic Turf Council is ensuring quality turf and provides information that helps clients and end-uses to find the most suitable solutions in synthetic turf systems. GreenFields' partnership with ESTC ensures our contribution to partnering within the industry, sharing knowledge and co-creation. By participating in this network we strive to improve and innovate our products and the industry as a whole. 
AstroTurf

Artificial turf is widely used and accepted by the sports community, becoming popular back in 1966 when astro turf was first installed. Many people are unaware that AstroTurf is a brand and is trademarked, forty years later synthetic turf has developed immensely with GreenFields products designed to provide excellent comfort, safety and professional play.