Base Construction
Pitch Construction
GreenFields is proud to be able to offer total artificial systems to clients. Our R&D team designs and supplies numerous technological innovations for one artificial grass system incorporating multiple integrated layers. As specialists in sports turf design and construction, our experts can advise on the base required for your new sports field depending on the existing foundations.
 

Typical Sports Pitch Layers
The way a sports pitch is constructed can vary depending on the site and the foundations already present.  Different materials can be used to best suit each project and our experts are able to advise on the optimum way to construct your pitch. This image illustrates the different layers used in a typical sports pitch installation. 
Performance layer
The performance layer is an optional but often necessary addition to the artificial grass system. The performance layer provides shock absorption and returns energy to both player and ball for a natural game experience.

There are various options in the market; the type of performance layer must be complementary to the infill choice to achieve the desired sports technical performance. Performance layers are available in many materials, thicknesses and densities; on a roll, in tile form, or mixed and constructed on location.

GreenFields guarantees a good performance fit for purpose by internal system testing and external validation by independent test institutes. For horizontal drainage we have several prefab and In-situ solutions not listed below. 


Existing shock pad
At the end of life of the artificial grass pitch, your existing prefab shock pad or in-situ layer may still meet the sport-technical requirements for a renovation. After a technical assessment of the shock pad, it can be decided to re-use it, which is a considerable cost saving. If the pad is not conform the norms anymore it will be taken out and recycled.
Prefabricated shock pads
Prefabricated shock pads (PE, PP, PU) are foamed or bounded plastic layers.
PE shock pads are thin pads 8-12 mm thick, generally delivered on a roll with drainage cuts in the material.
PP pads are thicker, about 20 mm, also on a roll made from recycled material.
PU pads are especially suitable for the higher insulation values for instance in combination with field heating.
In-Situ Elastic Layer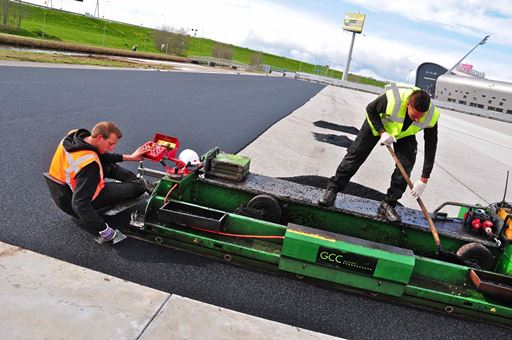 In-situ shock pads or E-layers (EL, ET, Ecocept) are elastic layers which are laid with specialist equipment, as a durable and well-draining sports technical layer.
In-situ layers are often 10-30 mm thick and are constructed from rubber granules bounded and encapsulated with a PU binder.
ET layers also function as a stable foundation with added stone and are generally thicker (35 mm). Optionally recycled material such as recycled infill or recycled artificial turf (Ecocept) can be used instead of stone, reducing the ecological footprint substantially.
Ecocept® Base
TenCate Ecocept® Performance Sports Base is an innovative new type of porous pavement specially developed to use below synthetic sports turf surfaces. The base acts as a combined structural layer and shock pad to ensure a stable surface whilst also reducing the loads experienced by players. It also reduces the impact on the environment as it is almost entirely made from recycled materials, including old synthetic pitches. 


The Ecocept Performance Sports Base is made of recycled plastics, recycled rubber and a binder material. For each full-size pitch installation, it can divert up to 140 tonnes from landfill. Moreover, an end-of-life synthetic turf can now be recycled into a base for a new artificial grass pitch. 
 
As part of a GreenFields system, Ecocept is specifically developed as the base for synthetic turf sports surfaces. It integrates seamlessly with artificial grass to enhance biomechanical properties and support performance.
Ecocept provides structural stability in a fully bound and stabilised base. The sports base has excellent drainage performance, eliminating costly below field drainage. It can consistently provide shock absorbency across the entire field, reducing the amount of loose infill required within a system.
TenCate Ecocept® Features
TenCate Ecocept®
See how the construction process is carried out utilising this innovative sports base.