Environmentally Friendly
GreenFields Asia
Environmental considerations are an integral part of operations and strategies at GreenFields, from product development, production and installation all the way through to the recycling of artificial turf systems. Sustainability is at the heart of everything we do to not only reduce the consumption of non-renewable resources but to ensure efficiency in the manufacturing process and the development of products today that can be recycled and used tomorrow.
GreenFields partners in first circular artificial grass processing plant in the Netherlands


In various countries in Europe and elsewhere is an urgent demand for clean, safe and circular recycling of artificial grass as it reaches the end its lifespan. Many municipalities, sports clubs and other organisations are seeking options to dispose of their artificial turf in responsible ways. TenCate Grass Group and GreenFields invest in the establishment of GBN Artificial Grass Recycling B.V. (GBN-AGR).

GBN Artificial Grass Recycling now presents a solution by recycling the annual supply of end-of-life artificial grass into new, high-quality, circular raw materials. GBN will kick off its project in the Netherlands, where in the spring of 2020 it will open its first innovative circular recycling factory, located in the heart of the circular cluster of the Port of Amsterdam. 

This solution is fully sustainable, both economically and in terms of environmental impact. It is also realistic, as it relies on a solid business case and was developed by and for the industry. GBN AGR works in close collaboration with several industry partners. This guarantees the investments needed to recycle sufficient volumes of artificial grass.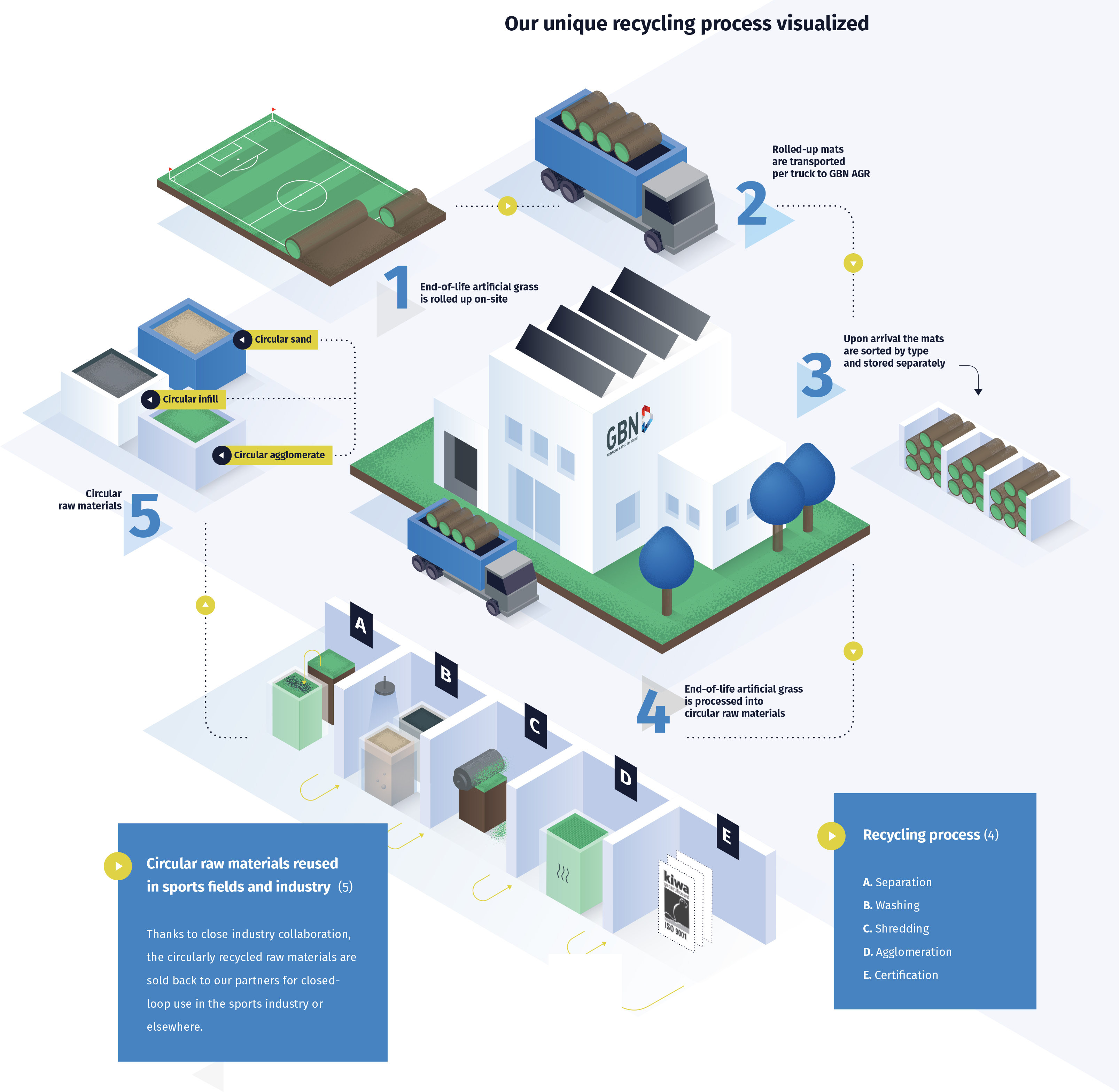 Environmentally Friendly Processes

Maximise Local Materials
To ensure no additional impact on the environment we utilise local materials.


Inspired by Nature
We are committed to the development of innovative, sustainable products.


100% Recyclable
We are dedicated to continual research into environmentally friendly sports surfaces and our woven product portfolio are fully recyclable.


Efficient Production
Our manufacturing facility is designed to the highest environmental standards.