INTRODUCING THE NEW GENERATION OF NON-FILL TURF
Engineered to meet FIFA Quality Pro standards, GreenFields MX NF provides a true alternative to 3G football turf systems.

Developed for long-lasting, high performance play, the strong thatch layer of fibres supports the player and provides grip. In addition, highly resilient SlideMax and Evolution fibres deliver natural ball behaviour. Patented woven technology forces the fibres to stand even straighter, ensuring the foot lands naturally on the turf.

A "lay and play" solution that is faster to install and easier to maintain. This non-fill product eliminates the need for infill decompaction or top up. Surrounding areas stay cleaner too as there is no migration of infill.

Key benefits:
Reduced maintenance
Great playability - natural ball behaviour
Long term performance - heavy duty construction
Easier to recycle - no need to remove infill
Unlike most non-infill turfs, the MX NF offers a real-feel player experience together with realistic ball responses. Patented woven technology causes the highly resilient fibres to continue to stand straight up even after repeated compression providing dependable natural ball behaviour.
Why GreenFields MX NF?

Natural Ball Roll

Low Maintenance Required

Natural Look and Playing Experience

Fully Recyclable
GreenFields MX NF Cutsheets
If you would like more information on this product please download the product sheets below.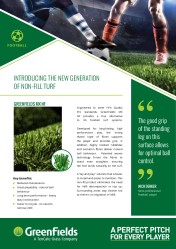 GreenFields MX NF cutsheet
Get FILE by email