USED AT TOP CLUBS WORLDWIDE, OUR woven PRODUCT OFFERS HIGH SPEED PROFESSIONAL PLAY
MX Elite is a high-tech woven system providing the ultimate in performance. The patented woven technology results in an extremely high tuft bind making the fibres stand even straighter. The combination of our top performing fibres results in a highly resistant, long lasting, natural pitch.


KEY BENEFITS
Woven technology ensures maximum tuft lock
Equal tuft spacing ensures natural ball roll
Trio of fibres provides an elite playing performance
1-step recycling- backing and fibres part of the same polymer family


DUTCH PREMIER LEAGUE CLUB, VITESSE CHOOSES MX  
Dutch club, Vitesse selected GreenFields MX for a new pitch at their state-of-the-art training facility. This video shows the first training session on the GreenFields MX field in preparation for the 2015- 2016 season. 



Football and rugby can be played on MX Elite, either as a single or dual sports pitch. The pile heights would vary depending on the sport that the pitch is being used for.
Why GreenFields MX Elite?

Natural Ball Roll

High Resilience Due to High Density, Fibres and Elasticity

Natural Look and Playing Experience

Fully Recyclable
GreenFields MX Elite Cutsheets
If you would like more information on this product please download the product sheets below.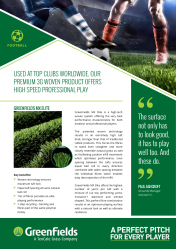 GreenFields MX Elite Football Cutsheet
Get FILE by email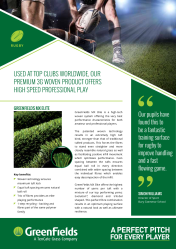 GreenFields MX Elite Rugby Cutsheet
Get FILE by email