OUR TOUGHEST SPORTS TURF WITH EXTREME DURABILITY FOR HIGH RATES OF PLAY.
GreenFields XP is our most robust turf yet offering a consistent playing experience over long periods of intensive use. Featuring the most advanced fibrillated tape fibres manufactured by a patented process giving end users a softer organic surface close to natural grass.


Key Benefits
Tape fibres provide extreme durability
Duotone fibres provide a natural look
Minimal maintenance requirements
Excellent split resistance from unique tape fibres




GreenFields XP is an ideal surface for football, in particular for community and educational fields where rigorous play takes place.
Why GreenFields XP?

Low Maintenance Required

High Resilience

Ultra Durable

High Comfort and Safety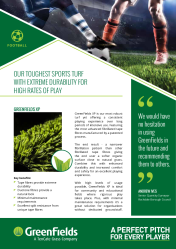 GreenFields XP Cutsheet
If you would like more information on this product please download the cutsheet below.