SAND DRESSED HOCKEY SURFACE FOR ultimate ball control
GreenFields TX SD has been developed as an optimum surface for players to enhance their technical skills, providing a stable pitch for total control. The surface is partially filled with sand ensuring that the pile height remains vertical. GreenFields TX SD offers identical ball roll in all directions as well as great ball rolling speed and accuracy. 


Key Benefits
High durability from TX monofilament fibre
Stable sand dressed surface
Total control for technique development
Excellent foot grip due to tight tuft bind


GreenFields TX SD has been designed specifically for fast playing modern hockey, perfect for high speed combination play.
Why GreenFields TX SD?

Ultimate Surface for High Speed Play

Quality Consistent Torsion (Foot Grip)

Total Ball Control

Consistent Playing Characteristics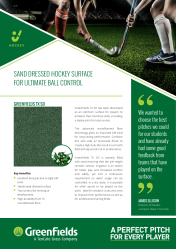 GreenFields TX SD Cutsheet
If you would like more information on this product please download the cutsheet below.