ULTIMATE WATER BASED HOCKEY SYSTEM FOR PROFESSIONAL PLAY.
Developed in collaboration with top hockey players, the new GreenFields TX Elite offers the best in class solution for professional play at the highest level. Proud to be the most densely tufted product in the industry, this elite water based system provides the ultimate smooth playing surface combined with high speed, incredible precision and control. 


Key Benefits

High durability from TX monofilament fibre
High speed play from TX surface and water base
Stabilised surface due to multi layer backing
Excellent foot grip due to dense tuft


Classified by the FIH as the Global Elite standard, the optimum surface type for competitive tournaments. GreenFields TX Elite is proud to set the new standard for premier level matches and is perfect for major international competitions.
Why GreenFields TX Elite?

Quality Consistent Torsion (Foot Grip)

Ultimate Surface for High Speed Play

Total Ball Control

Consistent Playing Characteristics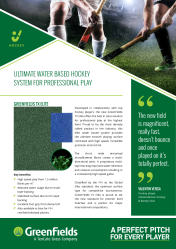 GreenFields TX Elite Cutsheets
If you would like more information on this product please download the cutsheet below.