Introducing GreenFields Slide Max Pro NF Non-Infill System
Designed to meet FIFA Quality Performance


GreenFields Slide Max Pro NF is a non-infill alternative to conventional FIFA Quality turf systems developed to meet the increasing global interest in environmentally friendly but high-performing and durable football turf systems. 

The unique design of the TenCate Monoslide XQ fibres ensures long lasting consistent play performance, optimized rotational friction to reduce injuries, and no slide when the foot lands.

The absence of infill means no issues with infill splash or migration, no need for expensive infill top-up or decompaction and, for outdoor fields in cold-weather conditions, no need to wait for frozen infill to thaw.

Key Benefits
Ultra durable due to the high intensity diamond fibres
Duotone fibres provide a natural look
High resilience due to high density, fibres and elasticity
High comfort and safety due to the diamond shaped yarns
Football and rugby can be played on GreenFields Slide Max, either as a single or dual sports pitch. The pile heights would vary depending on the sport that the pitch is being used for.
Why GreenFields Slide Max?

Natural Look (Duotone)

Ultra Durable

High Comfort and Safety

High Resilience
GreenFields Slide Max Pro NF Cutsheets
If you would like more information on this product please download the product sheets below.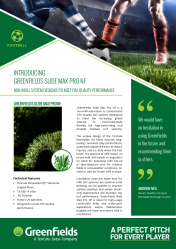 GreenFields Slide Max Pro NF Football Cutsheet
Get FILE by email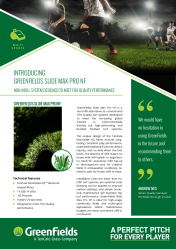 GreenFields Slide Max Pro NF Multisport Cutsheet
Get FILE by email