COMBINES STRENGTH WITH A NATURAL LOOK FOR HIGH FREQUENCY PLAY
GreenFields MF Elite combines the benefits of tape and monofilament fibre technologies to create a super-resilient pitch with natural playability. The fibrillated tape fibres hold the infill in place and provide industry-leading durability. The extra-resilient diamond shaped fibres stay upright longer, providing natural ball play and boot grip.

Key Benefits
Infill splash reduced due to high pile density
High usage possible from strength of yarn combination
High resilience due to the diamond yarn
Minimal maintenance requirements
GreenFields MF Elite is an ideal surface for football, in particular for community and educational fields where a high number of fixtures take place.
Why GreenFields MF Elite?

Low Maintenance Required

Reduced Infill Splash

Ultra Durable

High Resilience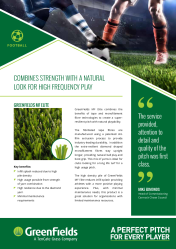 GreenFields MF Elite
If you would like more information on this product please download the cutsheet below.