DOUBLE TUFTED TECHNOLOGY FOR FIRST CLASS PLAY AND DURABILITY  

The GreenFields DT Elite turf system has the optimum fibre combination of evolution, trilobal and diamond shaped fibres to provide professional playing characteristics with a natural grass appearance. A reinvigorated product with a recent yarn adaption to
include the new evolution yarn which improves performance along with ensuring the ultimate resilience.


The double tufted technology enables more yarns to be present per tuft for a more natural yarn spread. This also ensures better infill distribution thanks to an open structure which gives the infill space to move and eliminates rotational resistance on players' boots.

KEY BENEFITS 
Improved infill movement reducing player injury
Natural look due to the mixture of three fibres
High resilience due to the evolution yarn
Strong durability and excellent split resistance
GreenFields DT Elite Cutsheets
If you would like more information on this product please download the cutsheets below.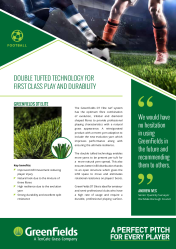 PS Football DT Elite EMEA
Get FILE by email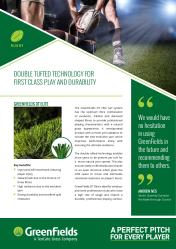 PS Rugby DT Elite EMEA
Get FILE by email